ASMBS' Updated Position Statement on Bariatric Surgery in Class I Obesity Gets Support from the ADA and SAGES-Endorsement


The American Society for Metabolic and Bariatric Surgery (ASMBS) Updated Position Statement on Bariatric Surgery in Class I Obesity (BMI 30-35 kg/m2), published online in the journal SOARD and endorsed by the Society of American Gastrointestinal and Endoscopic Surgeons (SAGES), has received the support of the American Diabetes Association (ADA), signifying the association "considers the clinical document to be of educational value to its members, although ADA may not agree with every recommendation or statement in the document."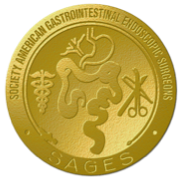 Originally issued by ASMBS in 2012, the position statement concluded "there is no current justification on grounds of evidence of clinical effectiveness, cost-effectiveness, ethics or equity that this group should be excluded from life-saving treatment." The 2018 update includes additional high-quality data released over the past five years in support of bariatric surgery in patients with class I obesity. The statement concludes, "For patients with BMI 30–35 kg/m2 and obesity-related comorbidities who do not achieve substantial, durable weight loss and co-morbidity improvement with reasonable nonsurgical methods, bariatric surgery should be offered as an option for suitable individuals. In this population, surgical intervention should be considered after failure of nonsurgical treatments."

BE-SAFE! Earn the ASMBS/SAGES Bariatric Endoscopy Verification Certificate
The ASMBS and SAGES have developed BE-SAFE!, a verification process for members with experience in performing bariatric endoscopy to verify they have acquired the necessary skills to perform these procedures. BE-SAFE! stands for Bariatric Endoscopy- Skill Acquisition Fundamentals Exam
Candidates are required to have performed at least 50 upper endoscopic procedures and then complete a video curriculum before taking the qualifying written exam. Watching all eight videos is required to take the qualifying written exam. To learn more about BE-SAFE!, click here.
ObesityWeek 2018 Registration Opens in June!
Registration begins in June for ObesityWeek 2018, being held Nov. 11-15 in Nashville, Tennessee.  ObesityWeek is the largest international event focused on the basic science, clinical application, surgical intervention and prevention of obesity. The 2018 conference will feature ASMBS specialized pre-conference courses, 100-plus sessions, more than 1,000 abstracts and 150 exhibitors. The Annual Mason Lecture, named in honor of ASMBS Founder Edward E. Mason, MD, PhD, will be presented by Harvey J. Sugerman, MD, a past president of ASMBS. Dr. Sugerman has published over 240 manuscripts in peer-reviewed journals, 20 books and 55 book chapters and is the co-editor of SOARD. Click here to see the interactive schedule and learn about other professional development and educational opportunities. Visit https://obesityweek.com/ to learn more.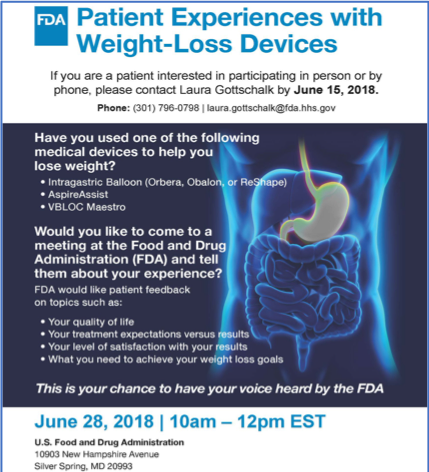 FDA to Hold Meeting on Patient Experiences with Weight-Loss Devices
The U.S. Food & Drug Administration (FDA) will hold a meeting on June 28, 2018 from 10 a.m. to Noon EST on weight loss devices and has asked for feedback from patients who have been treated with intragastric balloons, AspireAssist, and the VBLOC Maestro. The FDA is seeking patients willing to discuss the expectations they had before treatment, the level of satisfaction with their results and their quality of life after treatment. The meeting will take place at the FDA's White Oak Campus in Silver Spring, Maryland.

Obesity Action Coalition (OAC) Launches New OAC Community
The OAC has launched a new OAC Community, which is designed to educate on obesity and foster connections between those affected and those providing healthcare and support. Members  have access to the latest evidence-based information about obesity, community-exclusive content, and insightful discussions on weight management and health. Features of the new OAC Community include: a dedicated Community ENGAGE Platform and a redesigned OAC Action Center. Individuals who want to be connected to the OAC can join at no charge, with the opportunity to add-on valuable benefits for a nominal fee. To learn more about the new OAC Community, click here.

Your Weight Matters 7th Annual National Convention Announces Most Comprehensive Weight and Health Educational Agenda to Date
The OAC will host its 7th Annual Your Weight Matters National Convention, July 19-22 in Denver, Colorado. The conference will have more than 50 educational sessions on everything from personalized approaches to obesity care to the impact of weight bias on health and much more. Experts on the agenda include Senior Investigator at the National Institute of Diabetes & Digestive & Kidney Diseases (NIDDK), Kevin Hall, PhD; obesity medicine specialist, Ethan Lazarus, MD; nutrition expert, Jeanne Blankenship, MS, RDN; and Director of the Colorado Nutrition Obesity Research Center, James Hill, PhD. To register and view the complete education program, visit www.YWMconvention.com.