Every year you are asked to nominate and vote for members of the Integrated Health committees to serve on the IH Executive Council – and for many, you may not know who we are. So, I want to take this opportunity to introduce the IH membership to your Integrated Health Executive Council of the ASMBS. Each month I will highlight a different member of the IH Executive Council to you.But before introducing our first council member, it has dawned on me that the membership of the Integrated Health Section of ASMBS may not be aware of the composition of the Integrated Health Executive Council and the members who serve on the IHEC. Let me start by briefly explaining the IHEC, then introduce you to our council member.
The Integrated Health Executive Council is made up of a President, President-Elect, Secretary, Past President, Senior Past President and 6 Member-at-Large positions. The ASMBS Bylaws designate 4 of the Member-at-Large positions to specific disciplines: Nursing, Nutrition, Behavioral Health, and Mid-level Providers (aka Advanced Practice). The remaining 2 positions can be representatives from any IH discipline..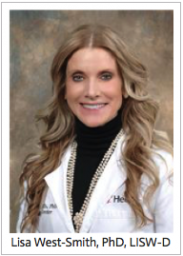 To kick off this section, I would like to first introduce you to your newly elected Integrated Health President-Elect, Lisa West-Smith. Dr. Lisa West-Smith initially served on the Integrated Health Executive Council from 2012 – 2014 as a Member-at-Large council member. Dr. West-Smith is currently an Assistant Professor in the Department of Psychiatry and in the Department of Surgery at the University of Cincinnati; she is also Director of Behavioral Health Services for UC Health Weight Loss Center. Dr. West-Smith's training is in psychology and psychiatric social work, and she is unique to our IH Executive Council as she is the first Behavioral Health IH President-Elect.
Since 2004 Dr. West-Smith has done over 5000 presurgical psych evaluations, and she is the senior author of our ASMBS Recommendations for Presurgical Psychosocial Assessment of Bariatric Surgery Candidates. We are grateful to have Dr. West-Smith on the IHEC – thank you and welcome.
And as always, if you have any comments or suggestions, please do not hesitate to contact me @ IH-President@asmbs.org.
Best,
Karen